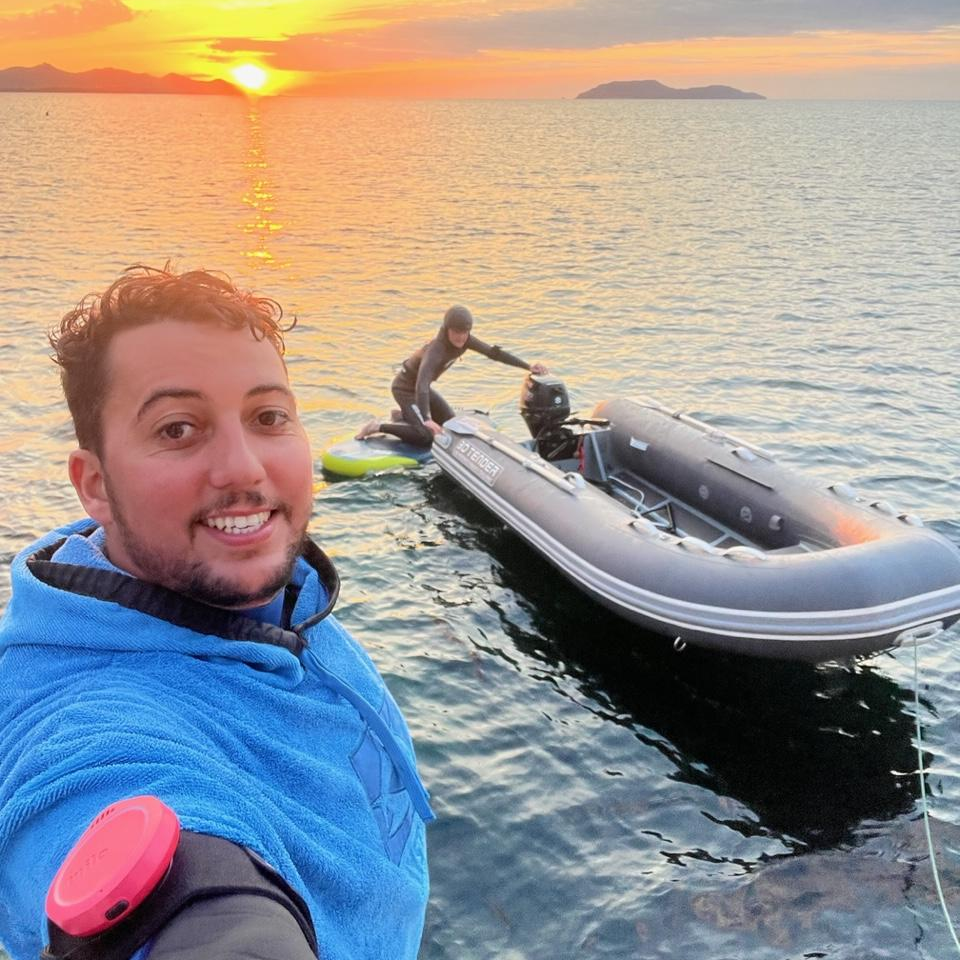 ★ ★ ★ ★ ★
Very polished! Finally modern walkie-talkies!

I have received my 3 Milos, and I'm very happy! Those products are very polished, physically and also regarding the way their features (down to the on-boarding, to every detail) are designed.

Well done guys, it shows that you have a strong team of Product Managers!

Really excited to see how this takes on, and about the future evolutions that you guys might think of!
thermikdreher, Instagram
★ ★ ★ ★ ★
"…best radios we ever had. Especially for team flying… just use it like a premium smartphone with handsfree… That brings the whole experience to a completely new level. I tested multiple intercom systems and the big benefit from Milo is the plug and play. I just arrived in NZ gave @buildanewtomorrow a 5 min crash course, clipped the device to her harness and it just works...No helmet installation ... Nothing"
Colin R.
★ ★ ★ ★ ★
My first time removing an ice screw.

My guide Wes 30m above me and belaying yet able to give clear instructions and advice thanks to the wearable, handsfree communicators we were using.

Milo is a game changer for climbers and I will not be leaving home without it.
"This changes everything."
Gabe Ferguson
PRO SNOWBOARDER
Patrice M.
★ ★ ★ ★ ★
Ok. Just an update on skiing with the Milo. It's awesome!!!

I really like the feature that quiet them down when close to each other.

The clip held up all day with no issues. But as most of you do... we use the wrist strap as a backup.

Here is one piece of advice: mute your units in the chairs to make them last longer! The clip used is a usual action clip with the smallest o-ring supplied, it works great!
Stephanie B.
★ ★ ★ ★ ★
Tried out my Milo's for the first time yesterday. They exceeded my expectations!

We are in a car rally group called Express Rally. The first event of the year was driving three cars to sponsor a Cars and Coffee event two hours away. The Milo's worked better than I expected!! While the range is a little limited for a driving scenario (max 3/4 of a mile between cars) we had no problem communicating about road hazards, cops, turns and bathroom breaks!

I was a little worried about extra noise or volume issues, but the controlled environment of the car was perfect. I wouldn't have even known the Milo was there until someone spoke. I left mine unmuted the entire time even with the radio playing in the background. I just had to remember to mute when a good song came on and I wanted to sing!

I would highly recommend for any road trips with multiple cars traveling together.
Jeff_KY, Facebook
★ ★ ★ ★ ★
Perfect for dog activities & events
Experiences with Milo

First chance I've had to to get out in the field, with my three Milos, training stock dogs. They performed flawlessly including the proximity volume adjustment, excellent audio quality, no drops or interference.

The audio delay between them was minimal and only slightly problematic. I have no doubt this will improve with follow on updates. I came up with an old school, inexpensive method to clip to clothing, collars, pockets, etc. I'll post some pix sometime soon.

Great job Peter and Team Milo!
Jason C.,
Disney Parks, Experiences
★ ★ ★ ★ ★
We get a ton of questions and interest when using them while skiing. Just last weekend, we had around 5 people ask us about them. I tell everyone to go to okmilo.com. I will let you know how these go, after we take them spring skiing, next weekend.
Rolf Schönfeld, Facebook
★ ★ ★ ★ ★
We have been using our Milo's now for a week on Hokkaido bc skiing. We always secure with a lanyard and had no issues with the clips. But we are only skiing thigh deep powder so no hard bumps. they don't cope with -10+°C that well. So while skinning up they go in a warm pocket and upon transitioning on the shoulder strap backpack or helmet. we had over 800m reach. they turn themselves off once a certain period of inactivity is reached. looking forward to testing them whitewater paddling.
Johan R.
★ ★ ★ ★ ★
Thank you for a great product. I've bought 6 units for my construction company where we use the Milo for communication between the blue collar and the digger. The noice cancelling is working great and the Milo can easily be compared to much more expensive products.
Jens B., Facebook
★ ★ ★ ★ ★
Hello everyone, I would like to post a little testimonial and ask a question. We were on a ski holiday 2 weeks ago and tested the Milos extensively. We had them attached to our jackets with the action clip. They withstood all the vibrations and didn't fall off. Basically, we got along very well. The Milos did not transmit neither the wind sounds nor the ski sounds without someone speaking. Our son was very good at communicating, singing or calling out after a break. When the slopes were still very gripping in the morning, I could understand the others a little worse, as the ambient sounds were louder. But it was very good in itself. In the gondolas and lifts we advertised Milo, since every second one had asked us what kind of machines they were. Several have also taken a note of it and ordered it.
John S.
★ ★ ★ ★ ★
I updated our Milos last night and used it for a bike ride today. I paired mine to a Shokz OpenRun Pro headset I have and it worked exceptionally well. I'd say this is a game changer. We've ridden for many years with the Terrano Systems headsets and like the ability to talk to each other. The Milos are a lot lower friction and allow us to incorporate more than just two or three units. This is now our goto choice.
"Revolutionary."
Michelle Parker
RED BULL ATHLETE,
PRO SKIER
Ben
★ ★ ★ ★ ★
I love the product. My pre-teen daughter and wife and I went on a hike yesterday with two of them. She got to go ahead and explore on her own, but still get to chat with us. She really appreciated "being on her own" with her parents nearby, but not having to yell. I can't wait to try it out surfing together. A very satisfied customer.
Jon
★ ★ ★ ★ ★
Did a range test and battery test today with 3 of my Milos on the latest version 5.0.1. Very pleased with the results.

First scenario was leaving one at base (home) and seeing how long it took to lose contact with the other 2 Milos (through brick and buildings Urban area) so that was about 400ft/120m so was very pleased with that as that wasn't what it was designed for.

Next was line of sight distance no obstacles. I WASN'T able to loose connection between the 2 remaining meshed Milos; achieved at least 1000ft/300m separation on the dog walk.

Would need to go elsewhere for greater line of site separation. Speech was always clear and the lag that was noticeable in previous [software] versions wasn't really noticeable in this version of the firmware. Well done Milo.
aqua_fun_erfurt
★ ★ ★ ★ ★
Kommunikations-System der neuen Art im Test beim Wintersport
nroachapproach, Mt Hood Meadows
★ ★ ★ ★ ★
Psyched to add the brand new @okmilo action communicators in the ski bag for the season and beyond! These things are awesome! Hands free and completely revolutionizing the walkie talkie game. Check them out! #okmilo
B. C., May 2023, YouTube
★ ★ ★ ★ ★
Talking on this thing was really hands free. It added a sense of security that even a slow poke like me wouldn't be completely cut off from the rest of the group while we are out on the trails mountain biking or hiking. If someone in the group got separated or lost or perhaps injured, it adds that sense of peace of mind that that person can just literally call out for help. We still have to use it more in various conditions and terrain or even altitude to see how seamless as well as reliable this thing proves to be. So far though, so good🥰

Great for timing taking videos when your riding buddy is out of sight.

Great for warning your riding buddy when there's oncoming traffic.

We definitely love the Milo Action Communicator. Thanks Milo!
Mike C., Melbourne, Australia
★ ★ ★ ★ ★
Our two black Milos and accessories were delivered on 16/02/2023, and we finally got the chance to test them today.

My wife and I cycle on bike paths, and always stay reasonably close together. My hearing can be quite poor when there is ambient noise, and so, with the wind in my ears while riding, I find it impossible to hear her when she speaks. It's enormously frustrating for me - and her, too! - and so I went searching for a solution. I came across Milo, and have been really looking forward to trying it ever since backing it in October 2020.

It's certainly been a long wait, but I can sincerely say that for us, and for the problem we hoped to solve, it's been worth it; we are absolutely delighted with the performance of our Milos!

My very first impression was that the quality of the packaging was very good. And once opened, set-up and updating was quick and easy. We weren't sure which accessory would be the best option for us, so we opted for both the bike-mount and armband, as well as carry- cases, and we're happy enough with all of them.

The Milos themselves got their first workout today, and we truly are thrilled with them. We began with the devices attached to the handlebars via the bike-clip, and while this was acceptable, we changed to the armbands because it brought both the microphone and speaker to a more optimal position. From that point, we were able to communicate effortlessly. and it was such a pleasure!

The path we rode on today is winding and heavily-treed. We lost connection briefly only once. at which point I stopped and waited for my wife to catch up (we were deliberately testing the communication distance). Judging by the time it took for her to reach me, we estimated she was 300 - 500 metres behind at the point of connection-loss. Considering the environment, we were very happy with that.

I understand that the performance may vary for other people, in different applications, but for me, in my situation, Milo is a game-changer. It has thoroughly solved the problem I had, and completely changed the riding experience for us. So far, I love it!
George M.
★ ★ ★ ★ ★
This update sounds awesome (pun intended).

Ours have range higher to the one advertised by Milo when trying on the slopes, so would be amazing to test this getting even better.

We get about 7hr use (a full day's skiing) with some muting, particularly when on chairlifts. If that increases further with this update, we can probably now also keep them going during apres skiing.

Seriously you guys are doing an excellent job addressing backer feedback.
Kerry Clawson
★ ★ ★ ★ ★
Ok so we received our Milo's and they are awesome. This past weekend was our first outing with them. We went skiing with a group of 6 to Big Sky resort here in Montana. Everyone got a turn with Milo and everyone was totally impressed. The sound quality is excellent and the connectivity was good too. What was really nice was when our group split up (it was me that didn't want to ski the trees, I confess) having Milo allowed us to stay in touch throughout. So, I'm reporting that Milo works as advertised. The actual reason I purchased Milo was for my daughter who has autism. We have needed a better way to communicate with her on the ski slope and when riding bikes in the summer. It is a significant safety issue for us. Milo is so easy to use that I am going to be able to hand one unit off to my daughter's ski coach and he will be able to use it right away. Now that I have tried them out, I am certain they will work perfectly for our situation AND we will be using Milo with our neurotypical friends and family on other adventures too.
Frank S., Vlissingen
- The Netherlands
★ ★ ★ ★ ★
Mid january we did our first field test of our brand new Milo's during winter sport in the French Alps. We were in a group of 4 and were all equipped with a Milo. Very well build, sturdy and well designed, very good "look and feel" Very easy in use and very well support from website and Milo app ("how to" video's etc.)

Crystal clear sound and amazing noise cancelling and filtering of "when to switch on the microphone and transmit the voices" Positively surprised by how well we could hear each other even with helmets on and going down the slopes at 60+ km/hr. Having said that: a bit louder volume could be handy in certain circumstances.

Your claim on the distance of how far the Mil's were transmitting were absolutely met. Brilliant.

Positively surprised of how well the magnetic clip held on. We expected them to get loose more often during falls etc., but during the course of 6 days skiing with a party of four, only once a milo came loose and was saved by the lanyard.

Being on the subject: we found out that a perfect spot for the milo was on the helmet near the ear where there is almost always a chin strap or similar to attach the action clip to. One of us had a Velcro arm strap, but this position worked the least as the strap slid down a bit and the microphone was to far away to pick up his voice. The 4th one had it on the shoulder strap of his backpack and this also worked fine.

All together: The Milo's turned out to be a very nice and handy addition to our holiday fun. It reduced the number of "how do we go now" stops drastically and avoided a lot of wrong turns by one of us. Also chatting with each other when 2 of us were in one chairlift and the other 2 in the gondola behind them turned out to very handy. (although the gossiping became a bit more tricky…)

That's it for now, thanks for a fantastic gadget.
bataloos
★ ★ ★ ★ ★
Seriously pleased with Milo This will sound like an advert, but I mean every bit, as a hardware engineer. Been using Milo every day while skiing. Genuinely impressed with the quality of built, and the attachments for various types of sports (they didn't fall off the helmets once). And the awesome noise cancellation. This point isn't mentioned often enough on Reddit. I seriously think Apple (for their AirPods for example) has a lot to learn from how Milo implemented noise cancellation due to wind etc. Even during high-speed downhill skiing, we were able to hear each other clearly, and when one of us took a wrong turn, we were able to communicate with each other over (what I believe) was over 600m distance as the crow flies (top to bottom of chairlift was 1,000 meters). Just to cover some of the concerns by other users here: • When close to your buddy, you can still hear them through Milo: I agree this should be configurable, and can be added to a future firmware. But if you do a test, whereby your buddy is very close, e.g. on the ski slopes, facing the other way, Milo had to pick he right balance of volume to be able to hear them where otherwise you couldn't. Muting e.g. when on chairlifts, is the obvious solution to that. • Sound quality: I would love for Milo to be able to have crystal-clear sound, meaning e.g. if it works as a Bluetooth speaker connected to your phone listening to music… but that's not the point of intercom/PTT communication. On a helmet, whilst skiing, vocal comms are crisp and voluminous. I'm not saying you don't have good intentions, but what's technologically possible needs to be factored in here. Seriously, what the Milo team have achieved is incredible.
Nicholas H
★ ★ ★ ★ ★
My wife and I have been using our Milos riding our gravel bikes and they are great (mix of bike paths and gravel/dirt roads). It's so convenient to be able to speak with each other while we are riding. Overall experience has been great! Based on my experience so far, I'm expecting these will be really useful while we're sea kayaking where we normally spend 50% of the time yelling "what did you say!"
Joseph Esch Ski & Snowboard Instructor, Park City Utah
" with Milo you can give real time feedback, you don't have to stop to say "hey, try this", you can connect feedback to the outcome"
WATCH VIDEO
Gear Patrol review
"Milo is the ideal outdoor walkie-talkie" "…incredibly easy to figure out" "…the range is impressive" "… excellent noise-canceling and voice recognition"
Epic Whistler weekend
Michelle Parker, Mark Abma and Gabe Ferguson search for the perfect line.
WATCH VIDEO
Liz W.
★ ★ ★ ★ ★
HI Peter and Team Milo I just received my 2 Milo Units, delivered to the UK. They are just fabulous. Much better functionality and quality than I was expecting and I love all the action clip and straps than came with them. The packaging is so professional too. Looking forward to using them on the boat, bike and skiing. Wishing you success in the future All the best
Poppy Crum
★ ★ ★ ★ ★
"I've been using a set of Milos in the back and front country this past week. Really excellent devices. Completely transform how people communicate and stay connected as groups. congratulations on bringing these forward. I'm sure they will have impact on the way we connect during so many activities."
Unboxing and first impressions
"It's definitely the best thing I've used from a radio on the water"
WATCH VIDEO
George
★ ★ ★ ★ ★
Just wanted to say that we received our Milos a few months ago, and took them on our ski trip to Val D'Isere last week. We've been using them every day. Genuinely impressed with the quality of built, the number of attachments for various types of sports (they didn't fall off the helmets once!), and the awesome noise cancellation. Even during high-speed downhill skiing, we were able to hear each other clearly, and when one of us took a wrong turn, we were able to communicate with each other over (what I believe) was over 600m distance as the crow flies. Truly pioneer product. We recommended Milo to quite a few people!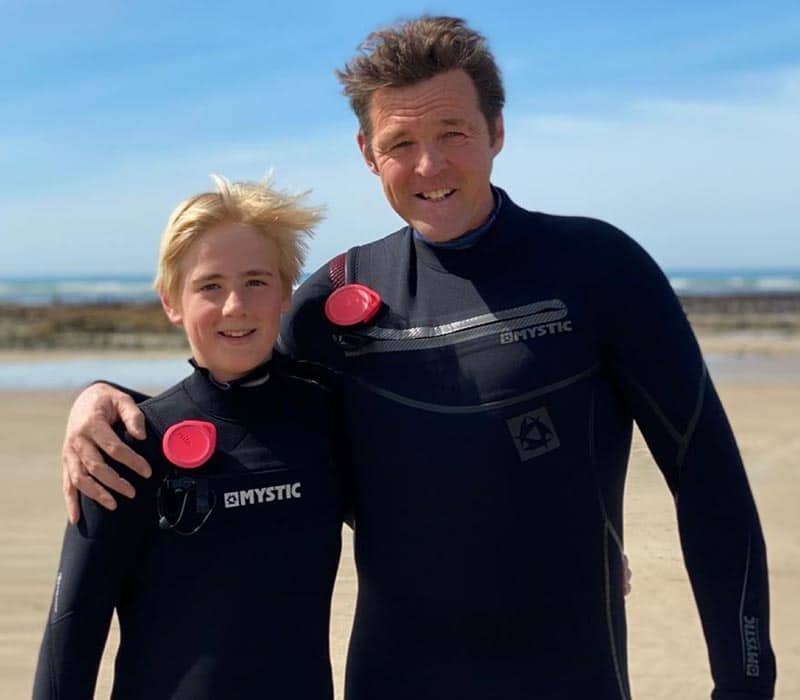 Ron C.
★ ★ ★ ★ ★
Hi Peter, Just wanted to drop a note and say congratulations. I received my two Milos in early January and have been using them weekly skiing with my kids. Looking forward to more software updates but this is the project I've been most happy to have taken a chance on and backed. My only regret is not having bought more units at the Early adopter price. Wishing you, Milo and the Milo team continued success. Best, Ron C.